17.05.2021
Aiming for carbon neutrality in energy consumption by 2030
eQ Commercial- and eQ Community Properties Funds
Climate related matters have become increasingly important at the global level. The construction and properties constitute up to 40% of the global emissions and energy consumption. The starting point of our choices is to find low-carbon alternatives. We have used in our properties green certified electricity generated by wind power since 2018. In addition, we always examine the possibilities of using geoenergy and solar energy in our new projects. The use of green district heating was added considerably in 2020 too.
Among the major projects in 2020 can be mentioned the low-carbon roadmap that we have drawn up for our Real Estate Funds. The prepared roadmap defines the target timetable as well as the most important measures for achieving carbon neutrality. The first step will focus on sites where the owner has a direct impact on maintenance.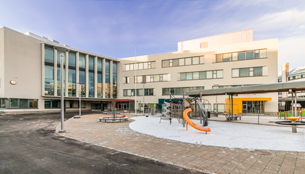 eQ Asset Management is now publishing for the second time eQ Real Estate Funds ESG report for 2020. We produce the report once a year. Please kindly read more about our carbon neutrality target, the annual monitoring and reporting on its progress, and more broadly about our other important sustainability activities regarding funds' properties in the
ESG report 2020.


In 2019, Lauttasaari kindergarten and primary school was handed over to the City of Helsinki. The building is carbon neutral over operational time. First BREEAM International 2016 New Construction: Education -certified school building in Finland.